ISWA World conference 2015 (国际固体废物协会2015年世界会议)
时间:2014-11-27 阅读: 我要评论:
ISWA World conference 2015 (国际固体废物协会2015年世界会议)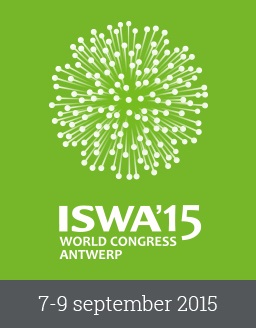 The city of Antwerp and Interafval look forward to welcoming you at the ISWA World conference 2015 in Flanders/Belgium! The results of the Flemish waste and resources policy are impressive. Many waste management companies are making the area around Antwerp a showcase of best practices and trend-setting technologies.
The organizers, backed by the industry and in close cooperation with the Board of ISWA, aim to make this congress in Antwerp a memorable success. ISWA 2015 Antwerp will guarantee a balanced mix of internationally renowned keynote speakers, representatives of institutions and agencies worldwide that determine waste and materials policy, interesting insights into the latest scientific and technological developments in the sector, and above all, a lot of opportunities for networking and exchange of experience.
ISWA – the International Solid Waste Association – is a global, independent and non-profit making association, working in the public interest and is the only worldwide association promoting sustainable, comprehensive and professional waste management.
ISWA is open to individuals and organisations from the scientific community, public institutions and public and private companies from all over the world working in the field or interested in waste management.
ISWA is the only worldwide waste association, which allows you to net-work with professionals, companies and institutional representatives.
Abstract submissions are now being taken for the ISWA World Congress. See the ISWA website for details here. Authors may submit their abstracts through theCongress online tool.

Selected abstracts will be published in the Congress proceedings (ISBN classification) and a selection of the best submissions will go on to be published in a special edition of the journal Waste Management & Research (WM&R).
Have your paper included in the WM&R 2015 ISWA World Congress Special Issue



Waste Management & Research (WM&R)

,

the official journal of the

International Solid Waste Association (ISWA)

,

will publish a prestigious World Congress 2015 Special Issue, containing the best papers of this world-leading Congress, attended by delegates from all over the planet.

The papers published in the special issue will be:
Available to download for free
Promoted widely through various SAGE and ISWA promotion channels
Included in the index of major databases including Web of Science and Scopus and the Special Issues index on the Waste Management & Research home page
Presented in the WM&R Special Session during the 2015 Congress and the print version distributed to 1000 participants attending the congress
Circulated to all ISWA members and WM&R subscribers
To be considered for peer review, submit a full paper in English by January 31st, 2014, and your paper could be included in the World Congress 2015 Special Issue.
Important Dates to Note
Abstract submission deadline: 11th December 2014
Full paper submission for journal publication: 31st January 2015
Good luck with your submission and please get in touch if you have any questions.

Best wishes
Dr. Costas Velis, Special Issue Editor & Associate Editor
c.velis@leeds.ac.uk
关键词:ISWA, World conference 2015, Waste Management & Research,固体废物协会
特别声明:本文转载仅仅是出于传播信息的需要,版权归原作者所有,并不意味着代表本网站观点或证实其内容的真实性; 如其他媒体、网站或个人从本网站转载使用,须保留本网站注明的"来源",并自负版权等法律责任; 作者如果不希望被转载或者联系转载稿费等事宜,请与我们接洽:service#environmentor.cn(请将#改为@)。
来源:环境人 作者:Environmentor (环境人 Environmentor.Cn)